Bitton Promoted to Associate Professor
Asaf Bitton, MD, MPH, has been promoted to associate professor of medicine in the division of general medicine at Brigham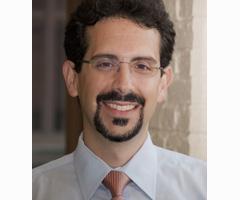 and Women's Hospital and associate professor of health care policy in the department of health care policy.
Bitton is also the executive director at Ariadne Labs, a joint center for health systems innovation at Brigham & Women's Hospital and the Harvard T.H. Chan School of Public Health. With a mission to save lives and reduce suffering, the organization uses human-centered design, scientific rigor, expertise in health systems and implementation science, and clinical experience to design, test, and makes scalable changes for population impact. Ariadne Labs' innovative solutions, ranging from surgical checklists, global primary health measurement tools, and COVID-19 vaccine allocation planning tools, among others, have been accessed in more than 170 countries, touching hundreds of millions of lives.
Previously, Bitton led the Primary Health Care team at Ariadne in the Primary Health Care Performance Initiative, a joint initiative with the Bill and Melinda Gates Foundation, The World Bank, the World Health Organization, UNICEF, and the Results for Development Institute working to improve primary health care measurement and performance in low and middle income countries.
Since 2012 Bitton has served as a senior advisor for primary care at the Center for Medicare and Medicaid Innovation, where he helped launch the Comprehensive Primary Care Initiative, the Comprehensive Primary Care Plus initiatives. These initiatives, active in 18 states and nearly 3000 practices serving over 15 million patients, represent the largest combined tests of primary care payment and care delivery change in the United States.
"We know both in the US and globally that health systems built on a foundation of responsive, robust primary care produce better outcomes at more reasonable costs. As a practicing primary care physician, researcher, and health systems innovation leader, my work has focused on how to align policy, payment, and practice to transform and improve primary care delivery systems and create high quality, integrated care models. I now also have the privilege of leading a health systems innovation center at Ariadne Labs that designs, tests, and scales solutions at critical moments in people's health care journeys ranging from primary care to childbirth to surgery to end of life care."
Bitton's research includes the dissemination and outcomes around the primary care payment and clinical transformation efforts in the United States, global tobacco control policy, and the epidemiology of non-communicable diseases in low- and middle-income countries. Between 2012-2014 he led the Academic Innovations Collaborative, shifting 20 Harvard-affiliated primary care practices towards team-based care.  
He helped to found the Brigham and Women's Advanced Primary Care Associates, South Huntington in 2011, where he continues to practice primary care internal medicine.