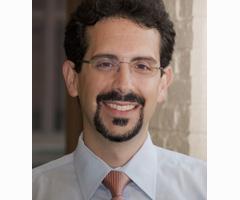 Asaf Bitton, MD, MPH
Associate Professor of Medicine, General Medicine, Brigham and Women's Hospital; Associate Professor of Health Care Policy, Department of Health Care Policy, Harvard Medical School
Harvard Medical SchoolDepartment of Health Care Policy180 Longwood AvenueBoston, MA 02115-5899
Asaf Bitton MD, MPH, is an associate professor of medicine at the Division of General Medicine at Brigham and Women's Hospital and associate professor of health care policy at the Department of Health Care Policy at Harvard Medical School. He is the Executive Director Ariadne Labs, taking over from Dr. Atul Gawande in May 2019. Ariadne Labs is a joint health system innovation center located at Brigham and Women's Hospital and the Harvard T.H. Chan School of Public Health that works to save lives and reduce suffering by creating scalable solutions that improve health care delivery at the most critical moments for people everywhere. Previously, he lead the Primary Health Care team at Ariadne and their efforts on the Primary Health Care Performance Initiative, a joint effort with the Bill and Melinda Gates Foundation, The World Bank, the World Health Organization, and the Results for Development Institute. This initiative aims to improve measurement of key primary care functions within low and middle income countries, with the goal of understanding variation in performance and tailoring improvement initiatives to address and narrow gaps. He also led Ariadne Labs' efforts to measurement of patient experience in low and middle income countries, implementation efforts with the World Bank in Estonia around risk-stratified care management, as well as other integrated care efforts globally.
He continues to serve as a senior advisor at the Center for Medicare and Medicaid Innovation for the Comprehensive Primary Care Initiative, and Comprehensive Primary Care Plus, two broad multi-state, multi-payer efforts that he helped design, which match payment reform to sustainable primary care transformation in over 3000 practices in 26 states across the US.
He also is a member of the Harvard Medical School (HMS) Center for Primary Care, where he led the Academic Innovations Collaborative to transform Harvard-affiliated primary care practices toward team-based care between 2012-14. He has studied extensively the dissemination and outcomes around the patient-centered medical home (PCMH) transformation efforts in the United States. He also has published widely on tobacco control policy, the epidemiology of non-communicable diseases in low and middle income countries. He practices primary care internal medicine at Brigham and Women's Hospital at their South Huntington medical home practice, which he helped to found in 2011.
For a full list of his over 100 publications, please click on his Harvard Catalyst profile.