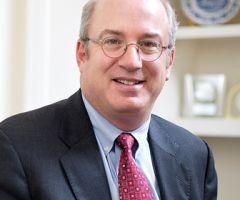 Peter Slavin, MD
President, Massachusetts General Hospital; Professor of Health Care Policy, Department of Health Care Policy, Harvard Medical School
Massachusetts General HospitalPresident's Office, Bilfinch 24055 Fruit St Boston MA 02114
Peter L. Slavin, MD, is the president of Massachusetts General Hospital and professor of health care policy at Harvard Medical School.
Dr. Slavin graduated from Harvard College in 1979, Harvard Medical School in 1984, and Harvard Business School in 1990.
He trained in internal medicine at Massachusetts General Hospital from 1984 to 1987. While on staff at MGH, he attended Harvard Business School and developed the hospital's first quality and utilization management program. In 1994, he was appointed as senior vice president and chief medical officer.
In 1997, he was recruited to serve as the first president of the recently merged Barnes-Jewish Hospital in St. Louis, Missouri, the adult teaching hospital of the Washington University Medical Center. In 1999, he returned to Boston to serve as chairman and CEO of the Massachusetts General Physicians Organization, which included over 1,700 physicians and employed nearly 1,000 of them.  
In January 2003, he was appointed to his current position. Massachusetts General Hospital is the third oldest hospital in the United States and is the largest Harvard teaching hospital. MGH operates over 900 inpatient beds, has an annual operating budget of over $1.9 billion per year, is the largest employer in the city of Boston, and has the largest research program (over $500 million per year) of any hospital in the United States.
Dr. Slavin teaches internal medicine at MGH and health care management at Harvard Medical School.