Mehrotra Speaks on Ways & Means Telemedicine Roundtable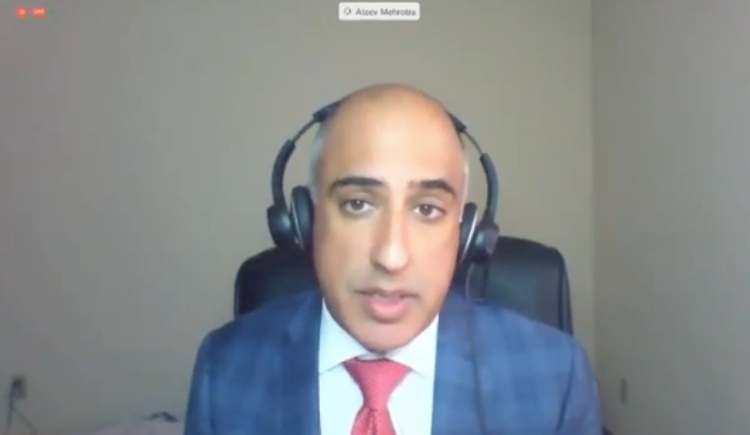 On August 6, 2020, associate professor of health care policy Ateev Mehrotra, MD, MPH participated in a roundtable discussion on the future of telehealth hosted by the United States House of Representatives Ways and Means Committee's Rural and Underserved Communities Health Task Force.
The discussion, titled "Examining the Role of Telehealth During COVID-19 and Beyond" hosted members of the Task Force as well as medical professionals from various organizations. The participants discussed ways to better understand the current policy landscape and the implications of expanding telehealth in rural and underserved communities.
"There is urgency in determining post-pandemic telemedicine policy," Mehrotra stressed in his opening statement, noting that the use of telemedicine has declined during the recent months of the COVID-19 pandemic.
"Now that in-person visits are an option, many providers are deciding that investing in telemedicine is not worth it," Mehrotra explained, "They are abandoning telemedicine due to the uncertainty of its financial sustainability in the long term. The health system needs to know now what telemedicine payment and regulations are going to be look like post-pandemic."
Mehrotra expressed skepticism over telemedicine's ability to broadly decrease spending due to the ease of use leading patients to schedule more appointments and receive more care. While increased access and utilization of care can be beneficial, this care will ultimately not be valuable to patients if it is low quality or overutilized.  
Mehrotra offered several recommendations for how to encourage high-value telemedicine while discouraging uses of telemedicine that do not improve health. He suggests utilizing alternative payment models, making some regulatory waivers that were introduced during the pandemic permanent, focusing on covering telemedicine for high-risk patients that may have difficulty accessing care, and paying for telemedicine at a lower rate than for in-person appointments.
The full round table discussion can be viewed on the Ways and Means Committee's website.