Gottlieb Speaks at 19th Annual Marshall J. Seidman Lecture Series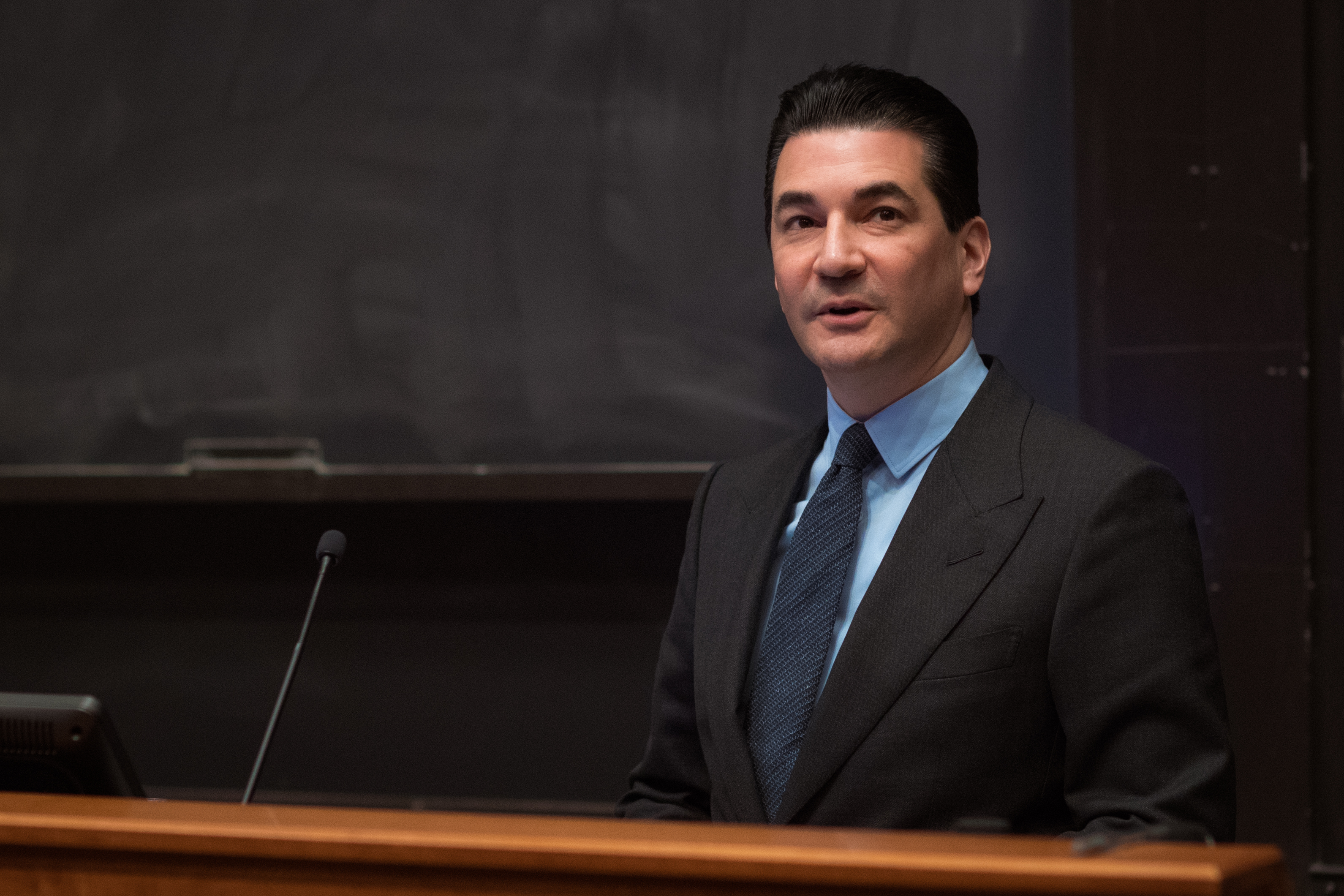 On November 12, 2019 Scott Gottlieb, MD spoke at the department of health care policy's 19th Annual Marshall J. Seidman Lecture Series.
Gottlieb, a Resident Fellow at the American Enterprise Institute (AEI) and 23rd Commissioner of the U.S. Food and Drug Administration, called for a ban on all pod-based e-cigarettes during his speech at Harvard Medical School. Gottlieb declared the sharp increase of youth e-cigarette use "a travesty on top of a travesty".
The 2018 National Youth Tobacco Survey recorded a 78% increase in the use of e-cigarettes among high school students. With almost one-third of the United States youth population using e-cigarettes, Gottlieb estimated that "unless we're able to change the current trajectory of tobacco-related disease, almost six million children alive today will die prematurely later in life from tobacco use".
While e-cigarettes were originally introduced as smoking cessation tools for adults, it has been shown that adult users mainly utilize open tank systems. These systems are not as popular among youth smokers, which is why a ban on pod-based e-cigarettes would be most effective, Gottlieb claimed.
Juul is the biggest offender in the pod-based e-cigarette market. Their sleek design and youth-based marketing makes them the first choice for many young smokers. Because the spike in youth e-cigarette use can be largely attributed to Juul, it could be possible for the government to create a policy that could require immediate removal of Juul e-cigarettes from the market.
Only banning flavored e-cigarettes will not be enough, Gottlieb said, as children that are already addicted to nicotine will just turn to regular tobacco flavors. Youth will continue to be attracted to Juul's appealing design and will seek out their high nicotine levels.
Gottlieb named the sharp increase in youth e-cigarette use "a rapid and alarming epidemic of use requiring dramatic intervention".
Gottlieb's work at the AEI focuses on advancing public health through developing and implementing innovative approaches to improve medical outcomes, reshape healthcare delivery, and expand consumer choice and safety. As FDA Commissioner, he spearheaded the agency's tobacco regulation mission.
In 2000, on the 50th anniversary of his graduation from Harvard Law School, Marshall J. Seidman provided the department of health care policy with an endowment to be utilized for work and research on improving health policy at the federal and state levels. In addition to supporting department research related to health care costs and quality, the endowment developed this annual university-wide lecture series.
Past Marshall J. Seidman Lecture Series speakers include Former United States Secretary of Health and Human Services Kathleen Sebelius, MPH, Wilson H. Taylor Resident Scholar in Health Care and Retirement Policy at the American Enterprise Institute Joseph R. Antos, PhD, Director for Health Policy Research and Ethics at George Mason University  Len Nichols, PhD, and Provost of Harvard University and Mallinckrodt Professor of Health Care Policy Alan M. Garber, PhD
You can read a full transcript of Gottlieb's Marshall J. Seidman Lecture at the American Enterprise Institute website. This lecture was featured in STAT News.